BETA?!!?
Please, please, please remember that is is a free piece of software currently undergoing beta testing. While I've used the FL Studio version for a while, the Reaper edition of this plugin is brand new and it might be best to give it a lengthy test drive on your system before using it in a production environment as there may be bugs or quirks I haven't encountered.
How do I use it?!?!?
I've prepared a video over on my YouTube channel that gives you a quick explanation of what this tool does. Have a watch and then we'll cover some of the more advanced bits and bobs below!

Advanced Bits and Bobs
For those that hate videos, here's a diagram giving a brief rundown of what everything is and does: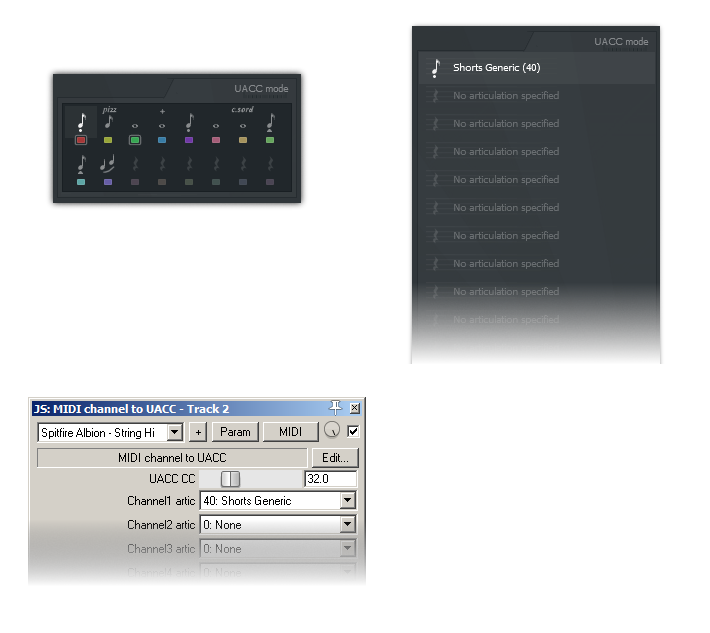 It looks nice, but how do I get up and running?
Getting up and running is relatively quick and easy. It helps to have a basic grasp of Reaper (adding and configuring track FX) as it's a little different from the FL Studio version, but lets run through a typical use scenario.
First download and install the BRSO Articulate for Reaper beta using one of the links at the top of the page,
Let's get the main Articulate UI up and running. In Reaper, select Show Action List from the Actions menu (or press SHIFT + ? ),
In the actions dialog that pops up, select New Action... and Load... from the set of ReaScript: buttons towards the bottom right of the UI to open the file browser,
From the browser, select the script called BRSO Articulate.eel (or BRSO Articulate REAPER4.eel if you're still on Reaper 4) and click Open,
Click the Run/Close button. The main BRSO Articulate for Reaper UI will now appear. This UI updates depending on the selected track,
You'll notice it says NO UACC FX found! We need to prepare a track in Reaper so that the UI knows how to talk to it,
Find the Reaper track that you wish to control and click it's Show Track FX window ( ) button,
Using the Add FX browser, search for the JS FX plugin 'MIDI channel to Keyswitch' (you may have to search midi_articulate_keyswitch),
Add the FX and configure the on-screen options to match your sample library. An example is shown below: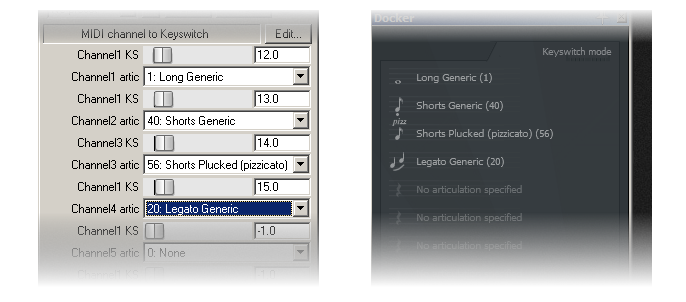 I want to put it on a toolbar for easy access. Can I do that?
You sure can!
From the Options menu, select Customise menus/toolbars to open the Customise menus/toolbars dialog,
Select the toolbar you wish to add it to from the dropdown listbox. In my case, I've left it selected on Main toolbar,
Click the Add button to the bottom-left of the customise dialog,
The Actions dialog will appear. Select Script: BRSO Articulate.eel and click Select/close,
Optionally, if you want to change the icon, click Icon... and pick Change Icon...,
Click Save and then Close. BRSO Articulate for Reaper will now be accessible from your toolbar.