Removing the Mic Signals you don't need
Clearing out the mic signals you don't need should be incredibly simple. In this example I'm going to demonstrate how to clean up a Sable patch, but it should be very similar on any recent Spitfire instrument. First, lets open up the V1 - Pizzicato patch from the _Individual brushes_ and take a look at the groups within it: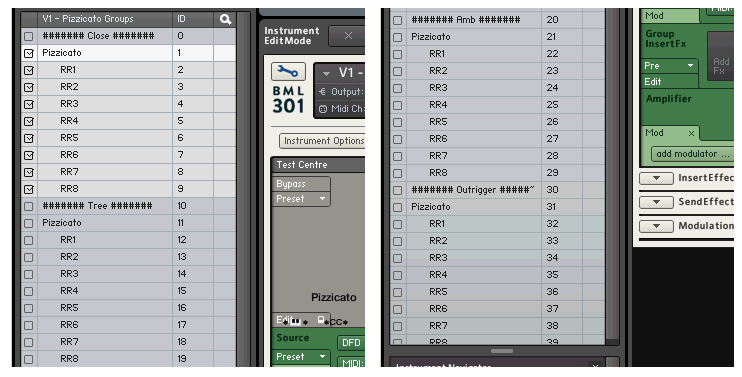 There are four microphone signals: Close, Tree, Amb(ient) and Outrigger, each following the other. In this example I am going to walk through how to keep just the tree mic: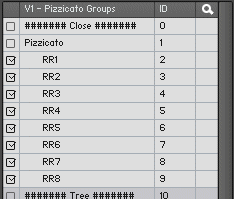 Click the ###### Close ###### group to select it.
Holding down Shift, click the first 'RR8 ' group (with an ID of 9).
Holding down CTRL (CMD on mac), click the #### Amb #### group (ID 20).
Holding down CTRL/CMD and Shift, click the last 'RR8 ' group (ID 39).
If you followed these steps correctly, your list should have everything
except
the groups between
###### Tree ######
and the first
RR8
below it highlighted. You're now ready to delete the groups!
Right click (for Mac users, hold CTRL and click) the group list and select

from the menu and press OK on the dialog that pops up. The groups that we just selected will be deleted, leaving the ones related to the Tree mic.
Finally, refresh the instrument by pressing the Restart button in the Kontakt toolbar (

).