A first look
Without further ado, here's a first look at Articulate Pro's main user interface in its current form:
Much of it is still likely to change and progress over this stage of development, but there are a few things to note:
It's familiar
It should be easy for existing Articulate users to get stared with Pro. The core parts of the interface remain the same, with articulation icons along the top, controllers and settings in the middle and a menu panel along the bottom.
It's resizable
The interface can be scaled to any size. As you scale it larger elements such as the sliders, icons and fonts scale up (for higher DPI displays). Content also moves around to fit the space better. It's also possible to shrink it right down to where it shows either just articulations, or controllers ...

... which comes in handy for templates where you've already configured the articulations and just want a small, concise view of what's going on.
It's simplified but more powerful
It's still quick and easy to set up simple articulations - you simply pick an icon and name (the icon browser is still there) and then drag either 'Keyswitch' or 'Controller' to the correct values. As with Articulate you can also just press the key or wiggle the controller you want to map.
Underneath the Quick Setup options sits the new event options. These are sequential instructions for Articulate that determine what happens when certain events occur. Events that can be acted upon include when activating or deactivating articulations (ie. changing note colour), when pressing and releasing keys and other things such as pressing play or stop on the FL song transport.
How advanced you want to get depends on you. These events can be quickly and automatically configured via the Quick Setup options at the top of the UI but you can also manually set them up. Lets look at a few slightly more advanced behaviours:
Latched keyswitches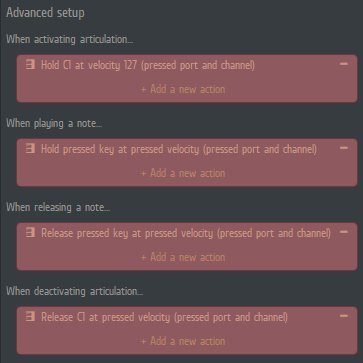 The above configuration demonstrates keyswitching latching. This is where a keyswitch is held down to achieve an articulation. The rules above are setup so that C1 is pressed and held when the articulation is first activated and remains held until it's deactivated.
Velocity-based keyswitches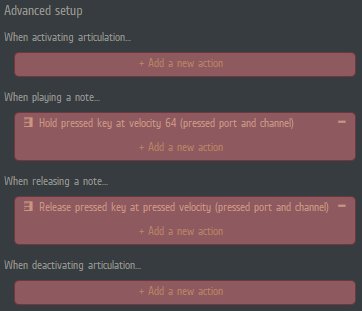 Some orchestral libraries activate different articulations based on the velocity of the note you play. The above example will play every note at velocity 64 while the articulation is active. Each articulation could be mapped to play at a different fixed velocity (eg. Staccato at 0-64, Tenuto at 65-76, Marcato at 77-127).
Advanced handling
The event system also allows some powerful behaviour customised to particular libraries:

The above example shows how you would have a piano library lift the CC pedal whenever you stop the transport (handy for fixing stuck notes).

Here we have an example that sets a CC to a specific value and then pauses for 0.1 seconds. This gives Kontakt some time to switch to the articulation before proceeding notes play. The same can be done for key up/down events.

Here's an example where pressing a note will always play a minor triad. Useful for phrase libraries that require chords to trigger.

Above we can see that events can have conditions and requirements. Here we see that Spitfire UACC KS (mapped to key 0) is set to 0 (no articulation), but only if this happens during playback, not while you're composing and only if the articulation is active.