CC Control
The sliders can also be controlled via CC. This allows you to map specific CC #'s to sliders and knobs on your MIDI keyboard or controller. Use the cheat sheet below for reference: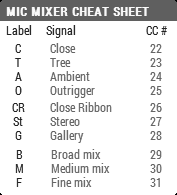 Key Modifiers
Holding down certain keys on your computer keyboard while dragging the sliders can change their behaviour. You can use the cheat sheet below for reference:
Also, if you hold down CMD or CTRL while clicking a mic purge icon (

) it will solo the microphone signal that you've clicked.
Per Articulation
Recently updated and released libraries now allow you to mix microphones per-articulation. To enable this mode, simply click the per-articulation-mixer button (

) so that it lights up.

You will now find that the mixing levels are unique to each articulation on the UI and changes made will only apply to the one currently active. The mixer will update to reflect the respective articulation's levels when switching between them.
Stereo Collapse
Some products allow you to collapse the close-mic stereo samples to mono and pan them. You can find this on the UI by clicking the collapse button (

). When doing so the mixer area will be replaced with the collapser controls: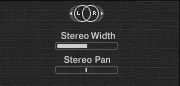 Simply drag the width and pan sliders to your preference and click the collapse button again to return to the mixer.
Output Channels
Sometimes you may want to apply external effects or balancing to individual microphones without loading multiple instances of an instrument.
To help with this, Spitfire instruments allow you to route each microphone to a custom Kontakt output channel.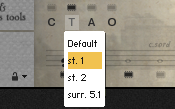 To change the output of a mic signal, simply click the microphone label below the level sliders and select an entry from the menu.
Velocity Modifier
A recent addition to most Spitfire instruments is the velocity mapping control. This allows you to configure your MIDI keyboard or controller's velocity response to your taste.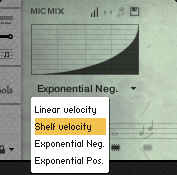 Clicking the velocity button above the mixer (

) displays a drop down menu containing four options you can choose from.
Mixer Presets
Recent instruments also include a mixer-preset menu (

) which provides you with options to load and save your own mixer settings..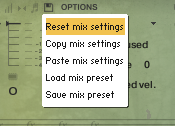 Reset mix settings resets the sliders and purging to default.
Copy/Paste mix settings lets you transfer slider/purge values between open patches.
Load/Save mix preset lets you save or load slider/purge values to and from disk.